| | | |
| --- | --- | --- |
| | What is Conoga? | |
What is a Conoga?
In its current form, Conoga is just me. I am a 20 year old goblin-like creature who hails from the state of Oregon. I developed this site, and created the software and games which bear the name. The name "Conoga" stands for COmmunication (with the) aNOmaly GAmes. A bit of a stretch for sure, but I really liked how "Conoga" sounded (Coh-Noh-Gah, by the way), so I made it work. Not to be confused with Canoga park in California. I really hope it doesn't mean anything offensive somewhere.

What does a Conoga do?
So what do I do? What is the purpose of this site? The initial purpose of this site was to be a place for me to showcase my screensavers and eventual games, wrapped in fiction. I have discontinued the lore for the sake of making this site more personal, but the original writings are available in the "legacy" section of this site. I like to program games and other software, and I have done so in the past under a different alias (which I don't currently plan to disclose).
What does a Conoga like?
Beyond programming, I enjoy and dabble in the following:
Music playing / noise making
Photography
Bad pixel art
Thrifting
Game playing
Some styles and general things I'm into are vaporwave, city-pop, retro-futurism, outdated electronics, and video games.
Some of my most recent escapades include watching old VHS TV-recordings, exploring discarded thrift-store floppies, and fixing a Sega Saturn.
This is my current PC setup: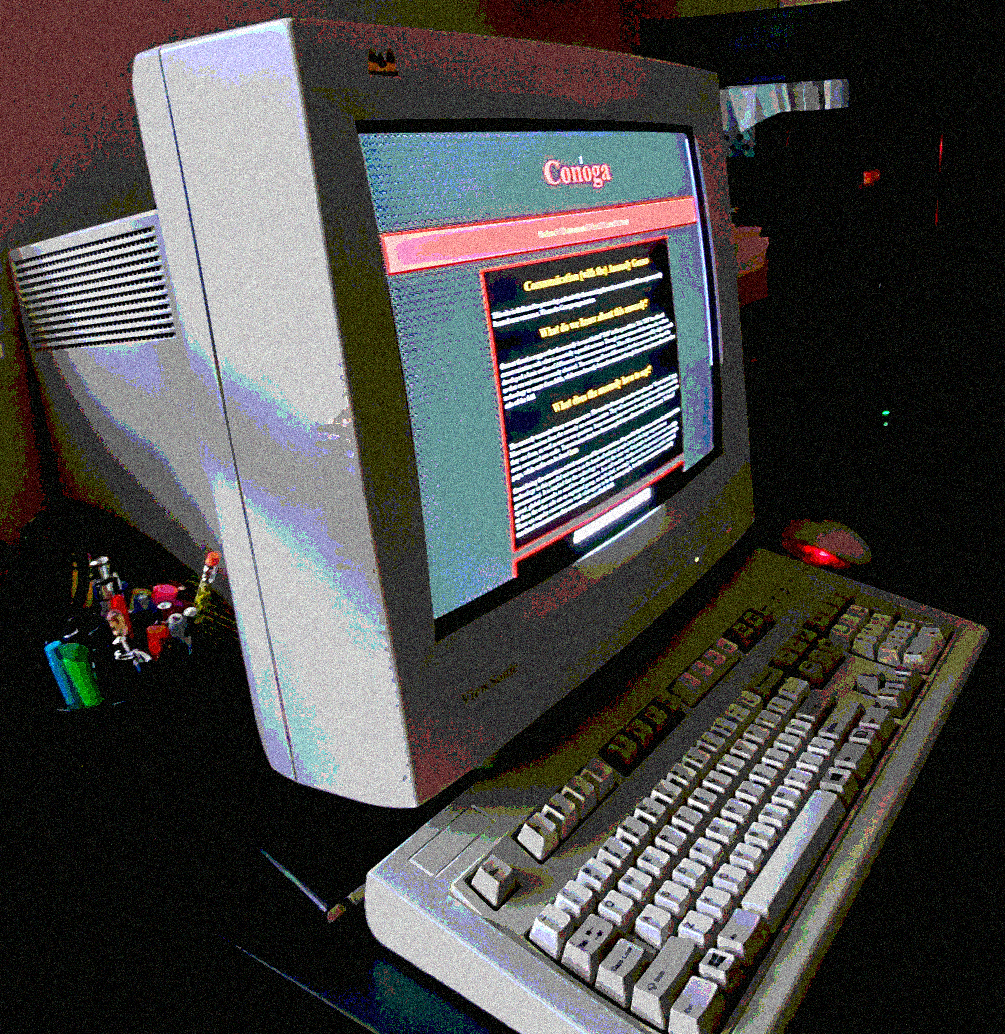 My PC was built in 2017, and it was mid-range then. I plugged a 1050ti into it back in 2019 so that I could play Modern Warfare, but it might be time for an upgrade again soon. The chunky CRT monitor is a Viewsonic E790 built in March of 1999, with a native resolution of 1280x1024. Most games seem to work on it so far with minor issues. I love the aesthetic of it. The matching keyboard is a unicomp keyboard, which is a mechanical keyboard manufactured from the same molds as the old IBM Model M keyboards. Sadly, I don't have a beige computer chassis to match everything else (yet).
What does a Conoga like?
Here's some stuff that I've been listening to while programming lately:
Esc Realm is another cool sound-plug if you dig vaporwave. Plus, it's a local neighborhood radio station located right here on Neocities! IT EVEN HAS A MASTER SYSTEM EMULATOR!

Want to send hate-mail? Direct your furious typing in this direction: conoga@protonmail.com!